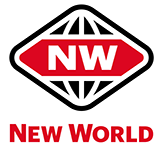 AT NEW WORLD, customers' happiness comes first – and that comes down to understanding what is needed to make their shopping mission rewarding and fun. "Thanks to a lot of work from our amazing team members and our owner-operators we're the proud recipients, for the fourth year in a row, of the Quality Service Award for supermarkets," says Steve Anderson, Managing Director Foodstuffs (NZ) Ltd.
"We are humbled by our customers' faith in us and we're wholly committed to constant improvement," Anderson says, as he acknowledges the team's efforts to deliver customers the best shopping experience every day.
New World supermarkets play a big role in their communities: employing local staff, supporting schools, sports teams and community groups, and stocking locally grown products and suppliers. Anderson is excited at the prospect of using the award to encourage the team across the country to reach for even higher standards of service next year.
"While we have a very strong bond with the community, we're also focused on safeguarding our environment together with our customers. We have so many exciting programmes in place to protect the things we believe are most precious to New Zealanders. The heart of our promise to customers is to ensure that they love coming back to us, because we serve them so well."
For more information, please visit http://www.newworld.co.nz