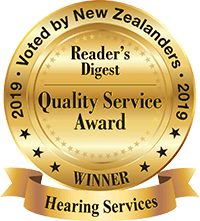 STARTED IN 1990, Bay Audiology is the largest hearing services provider in New Zealand with over 100 clinics throughout the country. Its team of highly qualified audiologists undergo continual training and are members of the New Zealand Audiological Society.
Bay Audiology provides its customers with a solution that is personalised to their hearing needs, lifestyle and budget. Every member of its team is passionate about customer service, going out of their way to make customers feel welcome and comfortable. Clients receive the finest possible care, called Gold Standard Service.
In 2018 Bay Audiology will continue to provide staff with on-going training. They can participate in the employee development program called 'Resonate', which develops communication skills and assists them in delivering Gold Standard Service. Staff are recognised and rewarded for going above and beyond at regular area meetings and at an annual awards event.
Surveys are sent to customers at different touchpoints to find out what customers have enjoyed about their experience, as well as any areas for improvement.
Bay Audiology is a company that lives and breathes its mission of helping people experience the joy of better hearing. Clients often give sweet treats, flowers and gifts as a thank you for the amazing customer service that they have received.
For more information, please visit https://bayaudiology.co.nz.