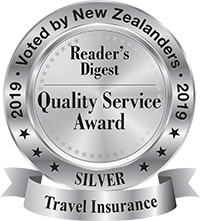 SOUTHERN CROSS TRAVEL INSURANCE (SCTI) has a vision of becoming the most extraordinary travel insurer in New Zealand.
With more than 35 years' experience as a specialist travel insurer, SCTI knows that providing exceptional service starts from the moment a customer visits their website or speaks to one of their friendly agents on the phone, but also that it doesn't end there. It strives to be a valued part of its customers' adventures, offering peace of mind and a 24/7 emergency line. Subscribers to SCTI's monthly newsletter regularly receive travel tips, destination guides and advice.
SCTI believes that everyone should be free to experience the joy of travelling, no matter their age, which is why there is no age limit for its TravelCare policy. Whether they're cruising around the South Pacific or spending winter on the Gold Coast, SCTI wants its customers to travel with peace of mind, knowing they're covered for the things that matter most, such as medical and evacuation, and travel interruptions.
The company also believes that personalising the experience, and building trust is critical to customer loyalty. It's no surprise then that personality traits valued in staff include patience, empathy, a positive attitude and a passion for helping people. In return, the company nurtures a culture of empowerment, and recognises staff for providing excellent service.
SCTI maintains a high level of customer service by listening to, and acting on, customer feedback. This provides SCTI's teams with constant opportunities to review and tailor products and services, and to maintain its standards of excellence.
Visit www.scti.co.nz